Got ten free Holiday cards from Shutterfly in my email. Had to order by Tuesday. Picked a couple favorite pictures of our family and made one. It even took off the extra charge to have half of them come with pre-addressed envelopes because I hate addressing envelopes.
It makes me feel all ~special family~ and ~grown up~ to make a holiday card. I love Shutterfly. They ran a special for a 29.99 off (or free, if you get the same size I got last time) photobook a week or so ago that I caught on the last day. I gave my copy from before to Liza and so I ordered one for myself now.
I want Shutterfly gift cards...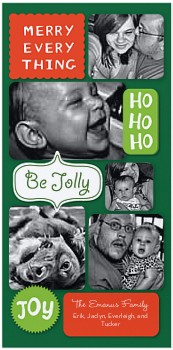 Merry Everything Christmas Card